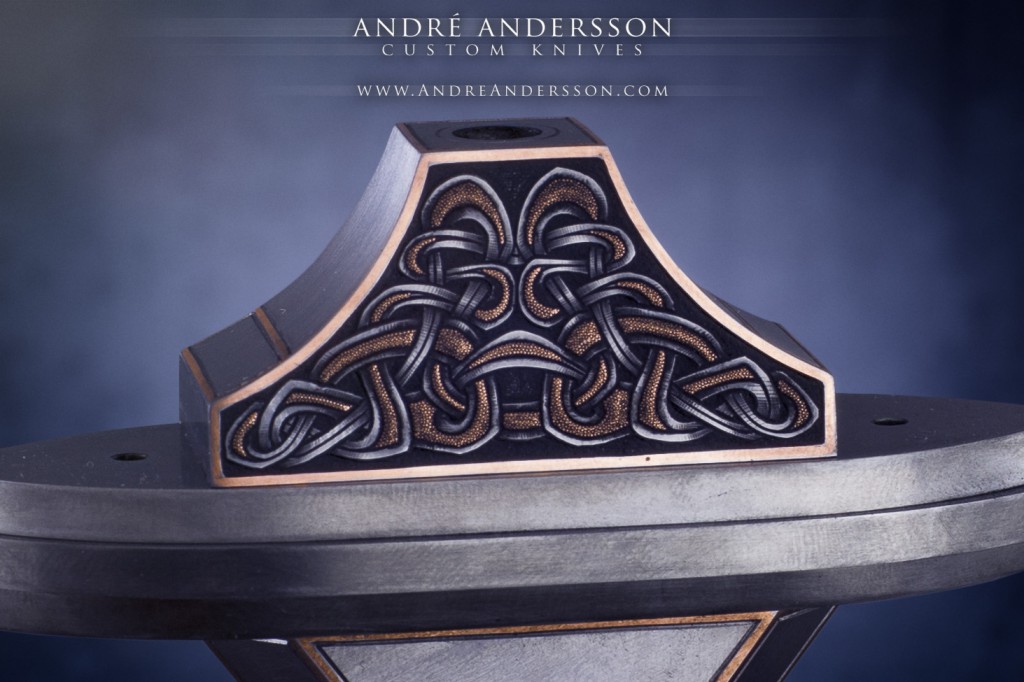 I can´t claim to be a veteran within steel-engravings – I have been doing it for about 1,5 years now and I´m still working to find my place and my style withing this very special line of trade. The summer of 2013 master engraver David Riccardo from the US came to visit us here in Sweden for a week, and thanks to him we manage to work trough most of the basics techniques and gave me a great foundation to work from.
Since then I have been working extremely hard to come up with a style and look no one else is doing to complement my already unique knives. I search for inspiration within the Scandinavian heritage, in the old Norse Viking and Vendel designs. I mix it up with a large portion of Art Nouveau or Jugend and this is what I get.
This kind of decoration technique is extremely time consuming to make – it is all done under a microscope with a Air-powered tool and shadows is built up with hundreds of small lines to create a feeling of depth withing the steel. I love working with copper inlays, mostly because it creates by far the most beautiful contrast against stainless steel of all inlaid metals, and I also think it´s a great way to honor the Norse heritage. Copper is harder to inlay then Gold but I think it´s worth the extra time.
I have taken some pictures of my workstation and the tools I use – brows trough the gallery below and you´ll also get a short description of what it is you are looking at.
Invalid Displayed Gallery